Today I'm super excited to be doing something completely different: collaboarting with Amy to share a vegan (and non-vegan) recipe!
This recipe is so simple and so straightforward, it was uber-easy to make it vegan: I just substituted Earth Balance butter for regular butter. That's it! I've included the vegan recipe below, but you should definitely click through to see Amy's pretty illustrated recipe.
These cookies are what I think of as proper British biscuits. Not overly sweet or powerful, they're fragrant and mild and just the right kind of sturdy to stand up to a warm cup of tea. We used Earl Grey here, but I'll be making these again with Vanilla Rooibus (and vanilla instead of orange zest) and Ginger tea (ooh, with fresh grated ginger instead of zest!). Because of the short time and limited ingredients, these are the perfect thing to make when you're staying with friends and want to impress them with your sophisticated baking.
I was worried that the vegan butter might not create the right kind of texture, but these were like a perfect cookie pie crust. Sturdy, with little crumbling in your hand, but a lovely crumby-ness once you bite.
Vegan Earl Grey Shortbread
Time: About 10 minutes to blend up, 1 hour in the freezer, 15 minutes in the oven.
Ingredients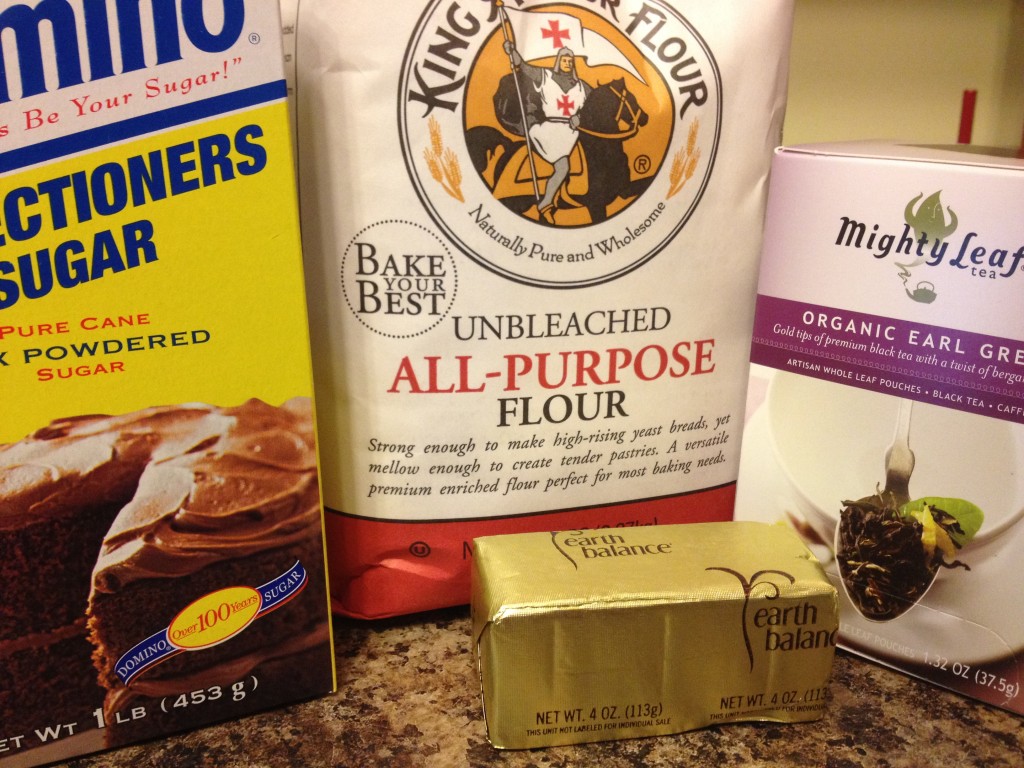 1 cup all-purpose flour
1 tablespoon finely ground Earl Grey tea leaves (from about 2 bags)
1/4 teaspoon salt
1/2 cup (1 stick) Earth Balance butter, softened
1/4 cup confectioners' sugar
1/2 tablespoon finely grated orange zest
Directions
1. Whisk flour, tea, and salt in a small bowl; set aside.
2. Put butter, sugar, and orange zest in the bowl of an electric mixer fitted with the paddle attachment. Mix on medium speed until pale and fluffy, about 3 minutes. Reduce speed to low; gradually mix in flour mixture until just combined.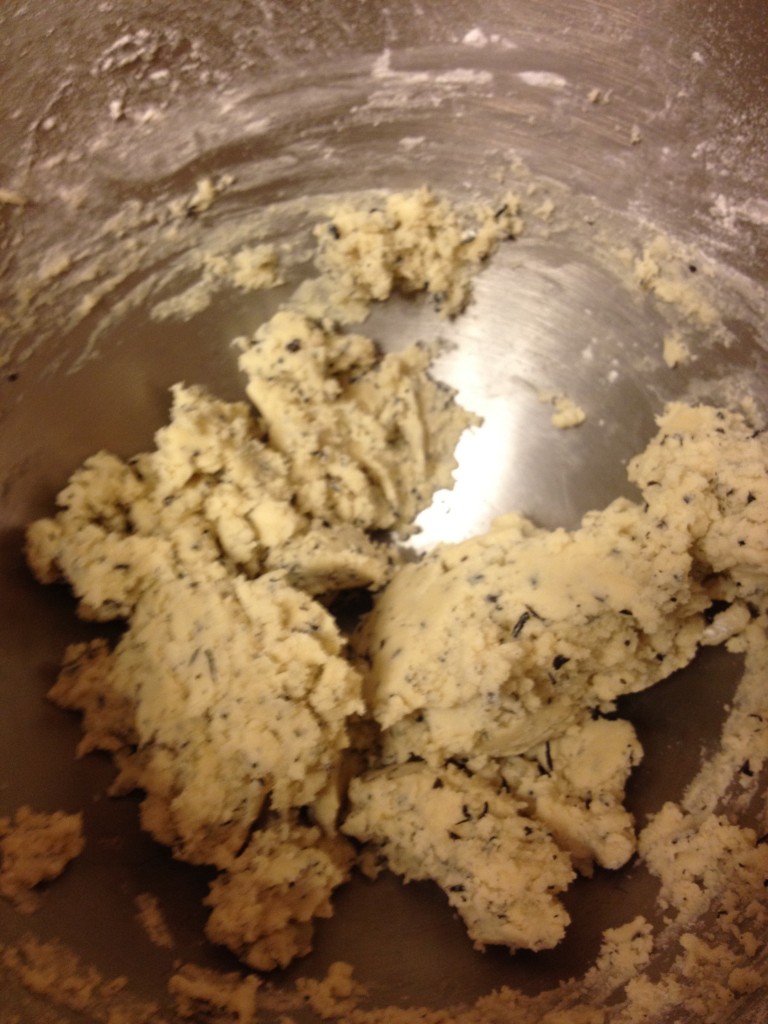 3. Transfer dough to a piece of parchment paper; shape into a log. Roll in parchment to 1 1/4 inches in diameter. Freeze 1 hour until firm, or chill overnight in fridge.
4. Preheat oven to 350°F. Cut log into 1/4-inch-thick slices. Space 1 inch apart on baking sheets lined with parchment.
5. Bake cookies, rotating sheets halfway through, until edges are golden, 13 to 15 minutes. Let cool on sheets on wire racks. Cookies can be stored in airtight containers at room temperature up to 5 days.
6. Enjoy with a big mug of tea and an episode of Dr. Who.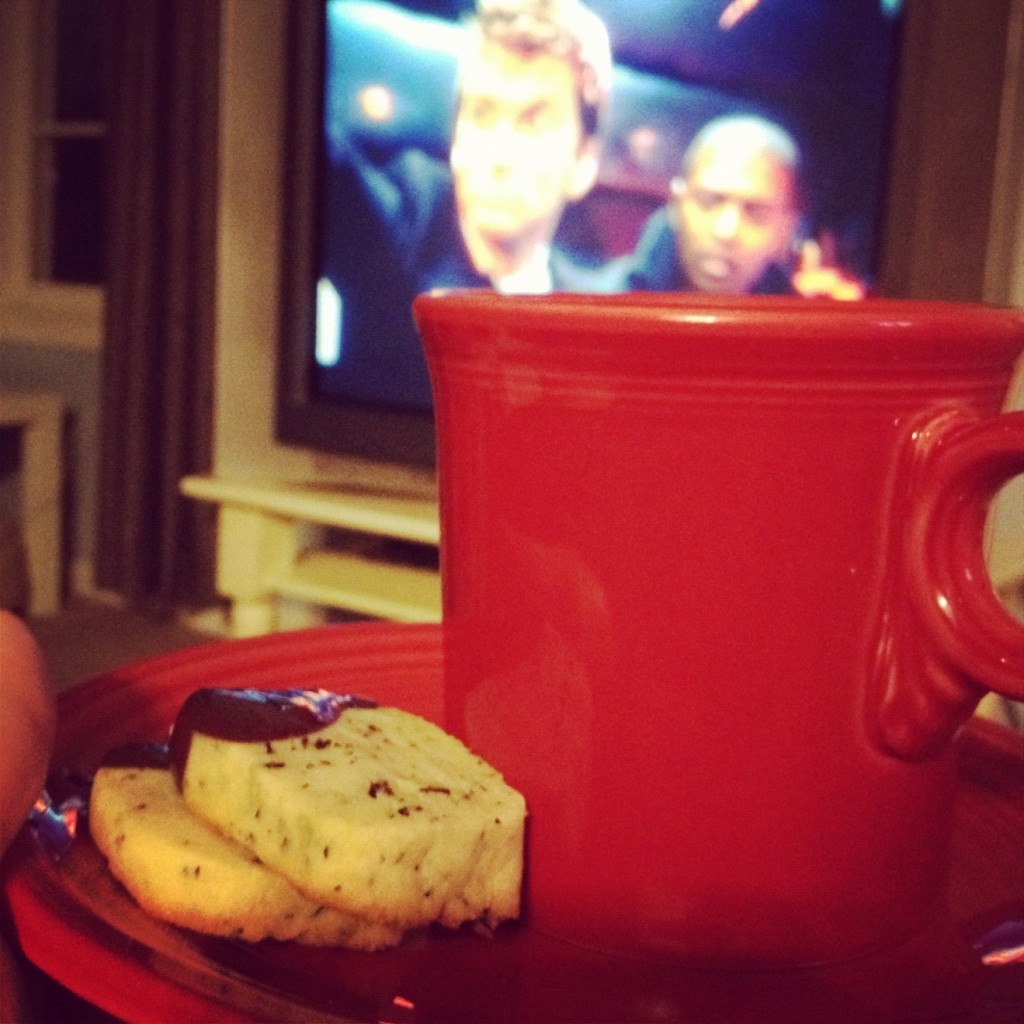 A few notes
1. I used Mighty Leaf Organic Earl Grey (because it's what I had, because it's my favorite!), but the tea leaves are not ground up small. They're long and lovely…but much too big for this recipe. I crushed 'em up a bit, but when I remake this recipe, I'll be sure to grind them even smaller, because wherever the pieces were too big, they added a touch of bitterness to that bite of cookie.
2. The top of your cookies probably won't get golden, because vegan butter doesn't do that the way real butter does. To see if they're done, check the bottom, which will be a nice golden brown color.
3. The Earth Butter gives it a pleasant, mild butteryness, but I bet you could kick that up another notch by replaced a tablespoon of the powdered sugar with brown sugar (that'll give it that buttery/carmely-ness you associate with butter cookies).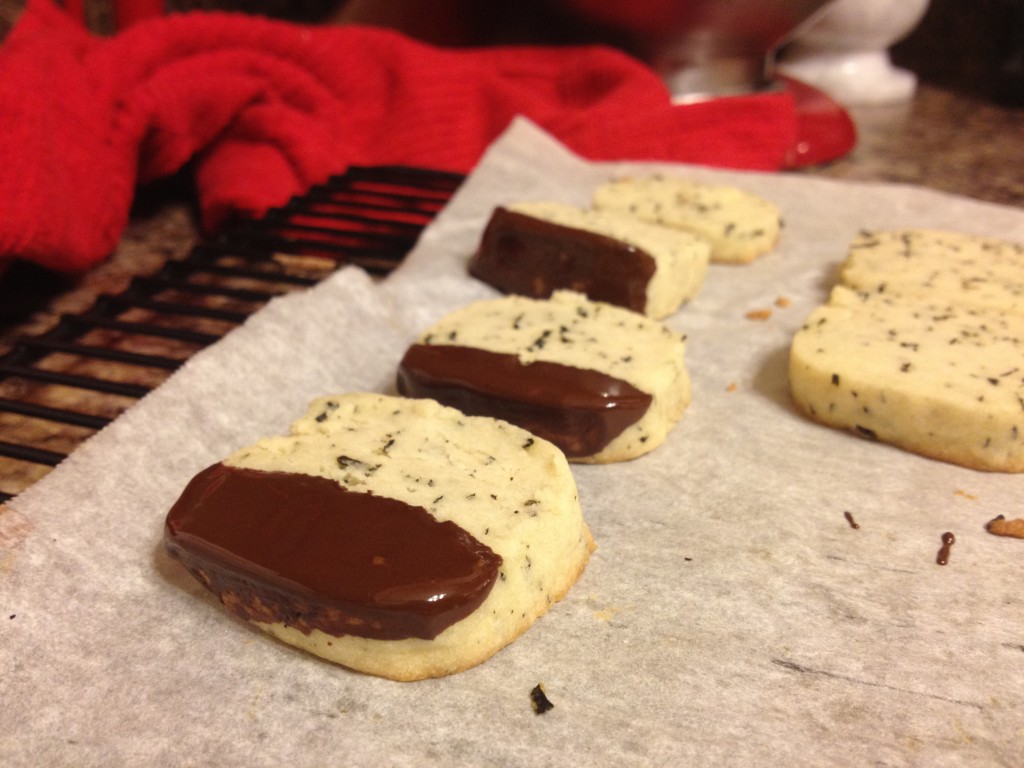 Additional toppings:
Because these cookies aren't sweet, I started thinking about tasty toppings to sweeten 'em up a bit.
I dipped a few in chocolate, because I'm crazy like that. To do that, melt some chocolate chips (or a dark chocolate bar) is a small, flat-bottomed ramekin. Dip the edge of the cookies in the melted chocolate and set aside to harden, or munch them while gooey. Mmmm.
Next time I make this, I might make an orange glaze, by mixing a 1/4 teaspoon orange juice with a few spoonfuls of powdered sugar. Adjust the sugar until you've got the consistency you want (add lots more powdered sugar and really whip it up for a full-on frosting.)
To see her darling illustrations (and get the non-vegan version), visit Amy.
PS. This is totally new for me, and I'd like to know what you think! Would you like more vegan recipes? Should this collaboration be a recurring thing?