A Guidebook for Makers and Artists who need to take leave.
If you love your creative business and you want it to last forever and ever, you have to come to grips with, well, your humanity. Something is bound to come up: illness, injury or new (even awesome) time-sucking projects. You're going to need to take a break, a leave, or just scale down, at some point.
How do you keep your business going (even growing!) when you need to take a leave?
Maybe you need to take maternity (or paternity!) leave as your little one arrives, or perhaps you have aging parents who need your care. Maybe you're about to have surgery, or perhaps you've had a bad reaction to a medication.
No matter the reason, is it totally normal to need time away from your business. No, not just normal, it is an unavoidable rite of passage. You are a human, in a body. You love and take care of people with bodies. Our bodies fail, change, and sometimes just need some upkeep.
Needing (and taking!) a break is a natural step in any long-term business.
Just a few of the many reasons you may need to take leave:
Welcoming a tiny new family member (birth, adoption, fostering)
Caring for your parents (whether it's normal aging, surgery, chemotherapy or stroke)
Your child's health (dealing with a new diagnosis, surgery, adjusting to a new school)
Your own physical health (surgery, broken bones, exhaustion)
Your mental health (depression, anxiety, adjusting to new meds that make you fuzzy)
WHATEVER you're dealing with, if you need to scale back how much work you do in your business, you have permission.
But if you, like us, LOVE your business and want to keep it healthy and thriving (especially if your income and wellbeing rely on your business!), you can't just stop doing everything. You need to keep money coming in to cover your expenses. You need to provide great customer support. You don't want your audience to forget about you.
How can you keep your business up and running, no matter what?
I feel you. My business is 100% of my family's income. It's how we pay the bills, feed the dogs and travel to see our far-flung family and friends. It's also 100% reliant on me… being ME.
I used to worry all the time: What if I get REALLY sick? What if I get injured? What if I get overwhelmed and just want to take a break? Or what if something amazing happens like I get pregnant or I get the book deal – I'll need to take time off for baby-wrangling or book-writing!
So when my husband quit his day job to work in my business (and work on his own dream business), it came to a head – I had to figure this out instead of waiting for an emergency.

So, I made a plan – I laid out what exactly I could turn over to others. I decided what I could cut completely. And I got to work – systematizing, checklist-ing, and documenting how I do everything that matters, so it isn't all up to me.
Yeah, there are still a few things that no one else can do (writing, podcasting, and Starship-leading) – but I created a plan for how they can go on hold or be filled by guest experts.
And this summer, I needed it. I had to take a few weeks to adjust to a medication that made me foggy, spacey and downright not-myself. I was completely unable to do my writing and podcasting.  I used my plan to turn over much of my biz-related tasks and I focused on getting healthy.
Do you have a plan for this?
Do you know what you would do if you got injured or if a new (amazing) project landed in your lap that took up all your time?
If not, you're not alone.
Most of us are so busy just keeping our business running and growing that we haven't made a plan for sustainability. We (think we) can't take a break without it all breaking down.
But it's like that cheesy poster: If you fail to plan, you plan to fail.
If you don't have a plan when life demands you spend less time in your business, you may struggle to keep it all running. You may decide (as many of our students and friends have) you have to let go of your business altogether. Or you may just keep trying to do it all, just as you always have.
We want to help.
We want you to be able to take a break, whenever you need it. Whether you're overwhelmed or overjoyed we want you to be able to step back or scale down your business, while still making what you need to make.
We believe that you can take a break, while still making sales.
Actually, we know you can.
"I've been running the super-successful FreshStitches since 2008, and it's just me who does the emails, shipping, blogging, you name it. So I've always been ALL about systems. FreshStitches is a serious chunk of our household income… not to mention my life's work! So, when I was expecting, I knew it was time to get super-serious about my systems (and I took notes, so that I could share with you!). My little one was born January 4, 2015 (just to make all of the annual accounting nice and neat) and in 2015, I earned 67% of my previous year's income. This was while only working a couple hours a day (while she napped! We didn't have childcare or family nearby) and taking 3 major international vacations. Now THAT'S systems working for you!

Everyone is in their own situation. But I passionately believe that your business doesn't have to die when you need a break (although I've seen it happen too many times to count). You just need a plan."
Here's how to take a break (without breaking your business):
Figure out how you spend your time
Find your Minimum Required Income
Identify your money-making projects and tasks
Streamline and systematize your entire worklist
Decide what you'll keep doing and what you can stop or pause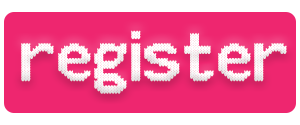 In Take a Break (without breaking your biz) we'll walk you through the process, with worksheets so that you will find your own answers.
There are over a dozen worksheets, including:
How I spend my work time (a weekly time-tracking table)
Task-Time-Money (get clear on how much time your tasks make and how that translates into money)
Minimum Required Income (how much does your business have to make to survive?)
Where my money comes from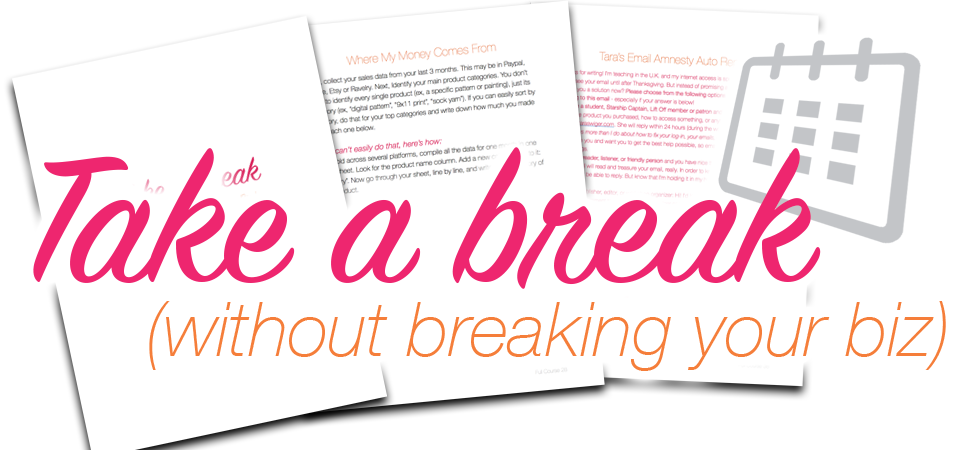 For $99 you get:
Guidebook – A 39-page guide to finding where you spend your time, where the profit is, and how to take a leave that makes sense for your business (without it falling apart).
Printable Workbook – We've split out the worksheet pages and made them greyscale so you can easily print only the worksheets!
Just the Words – We've split out the lesson pages, so that you can read along on your device, while you fill out your printed workbook
Resource Guide – We've gathered all the links and our favorite time-keeping, list-organizing worksheets in one place.
Bonus: Maternity Leave Guide! Stacey has created a timeline for what to do (and when!) as you plan to take Maternity Leave.  She shares her own experience and the Guide is packed with worksheets so you can figure out what works for you and your family!
Buy before November 3rd, 2016 and you'll also get
An invitation to the live Q+A on 11/3 – Get your question answered by Stacey and Tara, live! Even if you can't make the live recording, you can send in your question ahead of time and watch the recording whenever you like.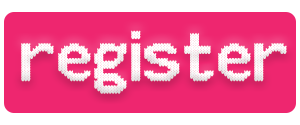 Your Guides
Tara Swiger leads makers and artists in building their best, most sustainable, loveable businesses around their enthusiasm. She's taught dozens of classes around the country and online, both with CreativeLive and on her own site, and is the author of Market Yourself (Cooperative Press, 2012).
Stacey Trock is the entrepreneur and social media maven behind FreshStitches, the uber-popular and innovative crochet company. Her experience running one of the largest subscription clubs in the fiber world, writing multiple books, teaching internationally and online as well as running a retail website – without employees – gives her a unique understanding of developing systems for small businesses in the yarn industry. Stacey has a sharp understanding of what makes a small business hum, and she brings special enthusiasm to connecting small businesses with easy-to-implement and trendsetting ideas.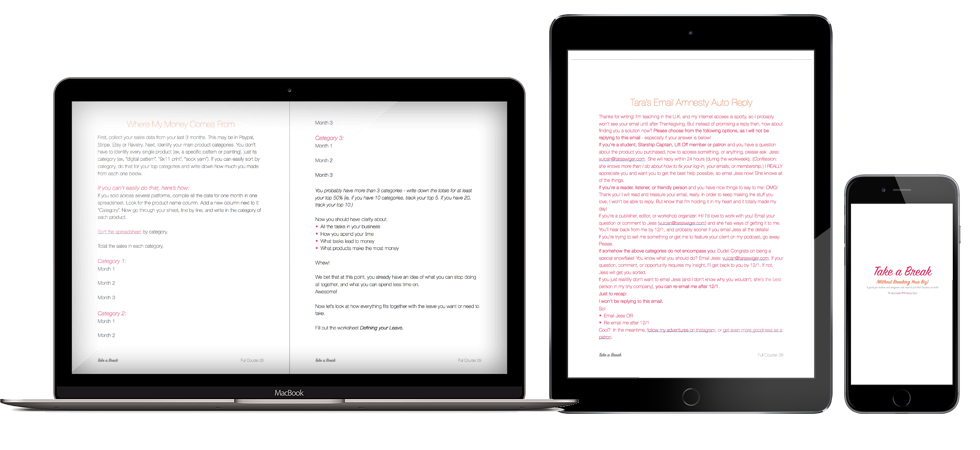 All of the documents are PDFs, so you can read them on any device. Our Q+A will be accessible on any device and the Workbook (which has the pages you need to fill out) is in greyscale so you can print it inexpensively!
What happens when I buy?
Step 1: Register by clicking the big pink "register" button and filling out your info (credit card or Paypal accepted, no matter where you are in the world!) – be SURE to complete your order!
Step 2: You'll be whisked to a Thank You page with a thank you note! (That's how you know you've completed payment.)
Step 3: You'll receive an email with all of the class materials! This will come to your Paypal email address, so be sure to check that inbox. It will be sent by "vulcan@taraswiger.com", so if you don't see it within 24 hours, search your email for that email address (it may be hiding in your spam or somewhere weird).
Step 4: Come to the live Q+A (details will be in your Class Materials email!) or watch the recording anytime after it happens!
Is this for me?
I know! It can be hard to decide! Here's a few things that are true for you:
You have a business, right now. You have a product and you make sales.
You want to take a break or scale back in your daily work. 
You sell something close to your heart: either a handmade product, your teaching, your writing, your art, or your thoughts.
You are ready to think hard and put in the work to systematize and streamline.
You're a curious explorer. You'd love for this to be a fascinating adventure, not a boring slog. You're ready to learn + move forward, not judge or guilt-ify the past.
We are confident that this course will improve your understanding of your time and profit. You can use that understanding to build a better leave. But it will only work if you do the work. To request a refund, email all of your completed worksheets to vulcan@taraswiger.com. We'll refund up to 100% of your purchase price if you've completed the homework and still aren't happy with the course.
Before you buy, please read the above page carefully. If you have questions, email me. Don't buy until you're ready to commit. 
Not sure if you're going to LOVE it?
Spend some time exploring my articles, listening to my podcast, and reading my weekly lessons, all of which are free. If you feel a tractor beam of attraction, then you'll love the class. If you don't, breathe easy and keep working on your own thing.
Got a question?
Email us: vulcan@taraswiger.com