The CraftyBiz Kitchen grew up and became the Starship!
It's got more than the Kitchen did and for a lot less!
Check it out here!
———————————
Because building a business from your craft is hard.
And it's not altogether clear why it's not working.
And most of the time, regular business advice just doesn't seem to apply.
Selling what you make by hand is like nothing else.
I spent years reading every last business book and blog. But I still wondered, how do I make this work for me? For my handmade awesomeness?
And then emotions get all mixed up in things. Things that hurt really hurt because I care so much. Because this isn't some product, it's My Thing.
It's so hard to figure all this stuff out on your own.
And most people who have succeeded don't seem to want to give details. Or they make these broad statements that make me say in response, well how do I do that?
This is the place where we talk about the how.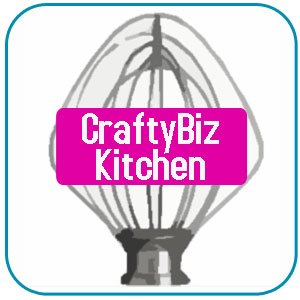 The specifics.
The next-steps and the then-what.
Recipes.
Accountability.
The What and the How and the Why.
This is a safe, cozy kitchen where we can talk about the really practical stuff no one ever wants to go into detail about–on exactly how to create a profitable crafty business. Stuff like pricing, talking to your people, making it sustainable so you don't burn out.
But what IS it?
The Crafty Biz Kitchen is, at it's heart, a subscription to CraftyBiz classes.
You pay $47/month and get every class I teach. Ever.
(and that's at least 2 hours a month)
But knowledge is just the beginning.
We take what we learn and put it into action.
With worksheets.
One-on-one prioritizing magic.
And friendly chats with your smart fellow crafters.
You get the support to do your work. Every other week we'll check in on Twitter (publicly) or in the chat room (privately).
Ready to sign up? Click here.
Want more? Keep reading!
For $47/month, you get:
2 live classes/month (includes live class, recording and worksheets)
30 minute one-on-one IdeaStorming, every month
Twitter chats
Private chats (in my fancypants chatroom!)
Bonus Kitchen-Only classes (on topics you pick)
Plus
You'll be the first to get the yet-to-be released Everything-I-Know-About-Marketing Handbook. For free. As part of your membership.
Wait! There's more!
Ok, yeah, that was cheesy, but there really is (and I've always wanted to say that).
In the last few months of doing the CBK, I offered two classes that were crazy popular and that I refer to again and again.
The first was about Finding your Right Price (and getting it!) and the second was Finding and Wooing your Right People.
Since these concepts will be referred to again and again through our work, I want everyone in the Kitchen to have them, right from the start. When you sign up, I'll send you all the materials for both. For free.
How it all works

The classes:
Each class is at least one hour live teleclass which will be recorded, followed by a as-long-as-it-takes Q+A.
But the real fun is that YOU are going to tell me what classes you'd like me teach (or find other experts to teach).
None of these classes are going to be available to anyone else (but back when I taught open classes, each hour was between $30-$70/hour)
The 30 minute IdeaStorming
IdeaStorming is…awesome. It's 30 minutes on Google Chat (totally free and simpler to use than email) of full-tilt loving-on-your-business. You bring your questions and we come up with answers. We can do everything from discuss your marketing plan to edit your sales copy to come up with product ideas.
I only offer 1 hour session to non-Kitcheners and that's $150.
How does the money thing work?
When  you sign up, you'll be charged for the first month right away. Then, exactly one month later, your Paypal account will be charged for the next month. This will continue until you cancel your subscription.
(Example: if you sign up on the 22nd, you'll always pay on the 22nd. It doesn't matter when you sign up, you'll get all classes that come after your join-date).
You can cancel your subscription at any time.
If you decide you don't like the next month's classes (which are announced with more than a month's notice), you can just cancel your subscription and *poof*: no more charges and no more classes.

Ready join in?
Don't like monthly payments?
If you are super duper sure that you want to be part of the CraftyBiz Kitchen, you can purchase 3 months at once. Your months will start April 1st and go through the end of June. At the end of June, you'll have a choice to rejoin or cancel your membership.
To buy 3 months with a one-time payment of $140, click here.
Quick Summary of All the Awesomeness
What you get
Price
2 hours of classes
($35-$70/each)
$70-$140
30 minute IdeaStorming
$75
TOTAL
$145-$215

CraftyBiz Kitchen

$47/month
The one time price of Right People + Right Price classes are $60 – but you get that for free!
A little bit of what CraftyBiz Kitchen has done…
"During one of the online chats, the whole Kitchen group helped me hatch the idea for my Cthulhu Coloring Book, which has been my best-selling product by far.

In addition, IdeaStorming with Tara has been a perfect way to think up ideas for new products, and her encouragement has helped me to be more confident in my unique niche. As a result, my holiday cards did really well this year, and I've already got some great plans for next year."

-Amy of AntemortemArts.com
Since starting to work with me in August, Joyce opened her shop, made her first sale (followed by many more) and did her first craft show. Check out her awesomeness at theflyingkettle.com.
One last note:
The Kitchen has been closed to the public since December. I only have 3 spots open this time and when they're gone, they're gone. 
This is not some marketing ploy (act now!), this is just the truth: I really love the small group feel and want to keep it cozy.
If you want to be in the Kitchen, sign up here.
If you have questions about if this is right for you and your biz, ask me: taraATtaraswiger.com