Wooing and keeping the people who will love you and what you do.
Customers.
Fans.
Your tribe.
Your community.
Your people.
Whatever you call them, your business needs them.
Those people who love your work and feel a deep thrum of recognition when they see your newest creation.
These are your Right People.
They are the ones you  buy from you, rave about you and support you.
With your Right People, you don't have to wonder.
You know they'll love what you make.
You know what you make will sell.
But how do you get Right People?
I'm gonna spill my secret right here: the Right People for your Thing will fall in love with it, when you make it fully You. When there's no faking, no trying, no hiding. Yeah, no hiding, because they can only find you if you put it out there.
 Register for this class to learn more about connecting to your Right People.
We'll cover:
Why Right People are worth thinking about,
Finding Right People
How to let your Right People know they are Right for you
How to keep them happy + satisfied
Any questions you have about your Right People
This class is really a 2 parter:
Part 1: What do you mean Right People?
(A 2 part free blog series: Why Right People + How My Right People Changed by Business)
Part 2: How to woo them, win them and make them yours: a live teleclass with summary + worksheet
I taught this class last year and thanks to the happy students, it quickly became my best selling class of all time.
Through working with a pile of craftybiz owners this year, I've got even more to share, with different examples of finding your Right People, no matter what you make.
Ready to hook up with your Right People?
This class is closed + only available inside the Starship library! 
For $30, you'll get:
Recording of the class that was held live
Pretty PDF Summary of everything I taught
Worksheets that walk you through the process of identifying and finding your Right Person
Still have questions?
How does this work?
When you click "Register", you'll be taken to Paypal, where you'll pay for the class (no need for a Paypal account, you can use a credit card). After you've paid, you'll (immediately!) be emailed the materials
Is this class for me?
Maybe! You are one of the Right People for this class if:
You sell your handmade goodness.
You want to share your handmade goodness with people who will really love it.
You are ready for your crafty business to grow in a comfortable way.
Is this about my Target Market?
Not really. Because the awesome thing about having a handmade business is that your "market" (the people who will love + buy your Thing") is not made of some easy-to-define demographic. If you make something quirky and fun and arty, a bunch of different kinds of people will love it.
This isn't about narrowing your focus on just one of those groups, it's about putting enough YOU into work that the Right People will love it no matter what their demographics are.
It's about making all parts of your thing speak clearly to the people who love it (and buy it).
Ready to Rock your Right People?
This class is closed + only available inside the Starship library! 
Want to work through finding your Right People with a federation of like-minded crafters?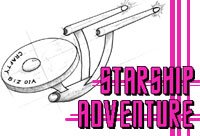 You'll get free access to this class (and every class ever) on the Starship.