It's one of the weird facts  of business that Who You Know often makes the difference between success and obscurity.
But how can you control who you know?
How do you figure out who can help you?
And how in the world do you let them know about your super-cool thing?
Without becoming a squeeing fangirl or a slimey salesman?
Let us (Diane + Tara) help you navigate the waters.
In this 1 hour teleclass (with recording + written summary), held August 3, 3pm ET, we'll cover:
Deciding what you want (blog coverage, references, book deal?)
Figuring out who can help you
Finding them online (in a non-stalker way)
Building relationships without ever using the word "networking"
After the class we'll share links + even more specific techniques during the Twitter chat.
For $35, you'll get:
Invitation to the live teleclass
Recording of the class
Pretty PDF Summary of everything we taught
Post-class Twitter Q+A session
Ready to Register?
Sorry, but this was a one-time-only class! No more registrations!
Still have Questions?
Why does my crafty biz need this?
Building strategic relationships can:
Offer opportunities for promotion (publicity, interviews)
Open doors for new revenue streams (speaking, writing, teaching)
Help you build on your reputation as an "expert"
Introduce you to influential people in your industry
Give you access to people who are where you want to be (inspiration + education!)
What "Who You Know" is NOT:
It's not about manipulating people, convincing people or using people (ew!).
It is about:
Being smart about reaching out to new people
Being brave to take the next (sometimes scary) step
Being open to new things and people
Can I buy this later?
Nope. This is a one-time deal. After the day of the class, it will no longer be available.
Please note: you don't have to MAKE the live class to get the recording, you just have to buy it BEFORE the live class.
How does this class work?
When you click "Register", you'll be taken to Paypal, where you'll pay for the class (no need for a Paypal account, you can use a credit card). After you've paid, you'll (immediately!) be emailed the details of the call.
At the appointed hour (August 3, 3pm ET), you'll call the number and bam! You're on a call with the other students. We'll teach for the first 45 minutes or so and then will take your questions.
If you can't make the call, you can STILL take the class, because all students will receive an mp3 recording of the class!
Who ARE you?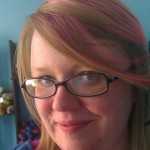 Hi, I'm Tara. I'm a pink-haired, yarn-business-owning, full-timer fiber artist and teacher. I teach crafters to craft a business that embraces their own wonkiness.

Hi, I'm Diane – also known as Sister Diane. I make all kinds of media at CraftyPod.com, and I teach crafters how to use online tools to grow their businesses.
Still have questions?
That's ok! Just shoot me an email: tara@taraswiger.com