What happens to the people who come by your website but decide not to buy?
Do they have something low-risk and totally free to DO?
Or do they wander away, forgetting all about their intention to return and buy their aunt that gift?
The easiest way to grab these potential right-people is to give them something.  Something free, something that gives them regular doses of your awesomeness that is totally risk free.
Often this is a newsletter.
But forget those notions of boring family newsletters or  corporate HR newsletters (I use to write those for the dayjob) or spammy mcspammerson everyday buybuyBUY messages.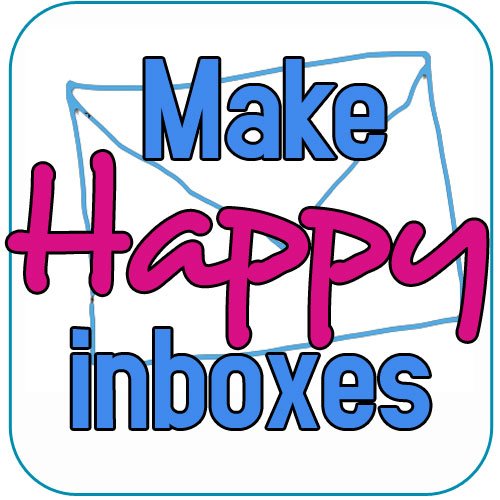 I'm talking about relevant, desired, down-right delightful love notes.
From you.
For your people.
To build trust.
To entice.
To delight.
You may already have a newsletter.
Or you may be too overwhelmed with the tech stuff to start.
In either case, I've got you covered.
I am excited to teach you my make-your-people-happy newsletter tricks.
But the tech stuff, oy. For all my techy questions, I call my personal translator, Wendy Cholbi. She specializes in translating technology into real-world, anyone-can-do-it steps. She's a magnificent explainer of stuff and  maker of checklists .
And! She's teaching a class for all of us on the how-tos of setting up newsletter software.
Even better?
Sure, you can just take ONE class, or you can take both,  learn how to do it all, from initial set-up to rocking your customers, and save $10
If you already have a newsletter, learn how to make it delightful.
Here's a little description of what we'll cover in this class:



$30
The live class has already taken place, but when you click "register" above, you'll get the mp3 recording AND a thorough written summary of the class.
If you haven't set up a newsletter software yet, learn how to actually MAKE that first one.

Get all the techy how-tos with guest expert, Wendy Cholbi.
September 15th, 5p ET, $30.
Best option? Learn how to do both!

Get both classes for just $50.
(Since the first class already happened, you'll get the recording, summary + details for the second class!
Each class includes:
Invitation to hour-long live teleclass
Chance to ask your questions before or during the class
Recording of the hour-long lecture
Pretty PDF Summary of everything we cover
Checklist on setting up newsletter (for How To Make class ONLY)
How does this registration work?
When you click "Register", you'll be taken to Paypal, where you'll pay for the class (no need for a Paypal account, you can use a credit card). After you've paid, you'll be taken to a page with the call information.
You'll get another reminder on the day of the class.
How does this teleclass thing work?
At the appointed hour, we'll all dial into one number and that's it! I'll teach, then you'll have a chance to ask your questions.
But I can't make the call!
That's ok! I'll send a recording the very next day! Hoorah!
Are these classes for me?
Maybe! You will adore this class if:
You sell your handmade goodness.
You want to stay in touch with your people, but the tech and/or will-I-seem-sleazy stuff has been keeping you from it.
You want to be able to do this stuff on your own, without hiring someone to do it for you.
Here's a little longer description of who this class it is for (and how it will help!)