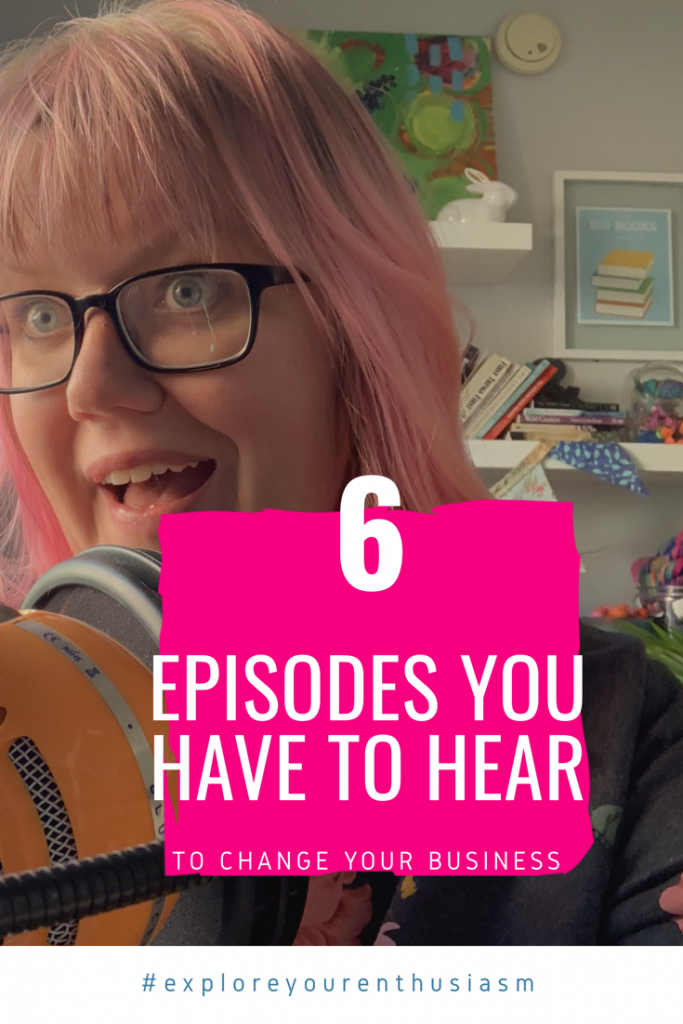 Podcast: Play in new window | Download
Are you traveling or working for hours in the kitchen or just trying to escape family this week, for American Thanksgiving? Me too, so I thought this week we could take a look at the best of the past episodes. If you'd like me to keep you company during your holiday prep, you'd have plenty to listen to. These episodes will come in handy as you're wrapping up 2018 and planning for 2019. They are the most-downloaded, the most-shared, and the episodes more people tell me totally changed their business or their perspective.
Today I'm going to recap my biggest and best episodes, so those of you who have just found the show know which ones to go listen to, or those of you who have been around for a while can listen again and get reinspired. If you missed these, I really recommend you listen to them, as together they form a foundation of business and life transformation.
These six episodes are both the most-downloaded (each has over 2000 unique downloads) and the ones I truly love the most, which just reaffirmed for me that I should keep talking about what matters most to me, because it matters most to you too!
A quick note: In some of these episodes I talk about the Starship, which was totally overhauled this year and will be open again on Dec 27th. So if you want to learn what the Starship is now and be the first to be notified when it opens again, head to taraswiger.com/starshipbiz and just remember that what you hear me say in past episodes may have changed since then!
Just click on the header for each episode to find their audio, video and written transcription.
In this episode I walk you through the process of not just creating a checklist for yourself, but really focusing on what you WANT in your business and your life. It's just 13 minutes, so give it a listen here.
This is one of my most-asked questions: How to you get back into business after a break? How can you make a totally fresh start after a bad year, or a bad week, or a bad review? Even if you've never met a goal before, you can start fresh TODAY, and that's what this episode walks you through. You can find it here.
Here's a dichotomy: You want to listen to your customers and your audience, to give them what they want, to create an awesome business. But yet, needing their approval has you frozen or afraid or feeling kinda needy. How do you balance this?
In episode 189, I break it down for you – how to unhook from needing approval, while still listening to important feedback. This was a HUGE business lesson for me in 2017 and this episode inspired more feedback than any other episode, you can listen in here.
Right in line with not seeking approval, let's get over the fear of disapproval! Are you unsure of your next step, because you're afraid of the reaction you're going to get? Are you avoiding rejection, because you want to have the approval and acceptance of your customers and audience? Yeah, me too.
In this episode I teach you how to move beyond fear into ACTION, find it here.
This was a really different episode, in it I shared the lessons from the book How Emotions are Made, by Lisa Feldmen Barrrett, PhD. It helped us understand how to keep emotions from screwing up your business or reacting rashly, by understanding how they're made. The author has done so much research on emotions and the brain and how emotions actually form. Realizing all the pieces that go into making an emotion, can help you understand how to work with your emotions. The big lesson, that emotions are "constructed, not automatic" shifted your perspective a lot, based on the feedback I got. Listen in here.
This episode was written in response to a question I got from the Starship: If Stretch Goals are good, how do you know what the right amount of stretch IS? How much is too much? What is ridiculous and what is a good kind of challenging? This episode helps you figure out if YOU are the kind of person who's motivated by a crazy goal or a doable goal and then helps you set some goals from there. Find that episode here.
This is the episode I refer people to most often, because we ALL struggle with what to say when someone asks us: Why does your thing cost so much? This is so so vital for the health of your business and your mental wellbeing. The more confidence you have when discussing your prices, the more sales you'll make. In this episode we talk about how you can get really confident and grounded in your prices, so you can share with confidence and make more sales. Listen to it here.
So there you go – the Top 6 episodes of the podcast, and the ones that will help you transform your business and your life in the coming year!
How to listen
You can subscribe to it on iTunes (If you do, leave a review!)
You can listen to it using the player above or download it.
Subscribe or listen via Stitcher (or subscribe in whatever you use for podcasts – just search "Explore Your Enthusiasm" and it should pop up!).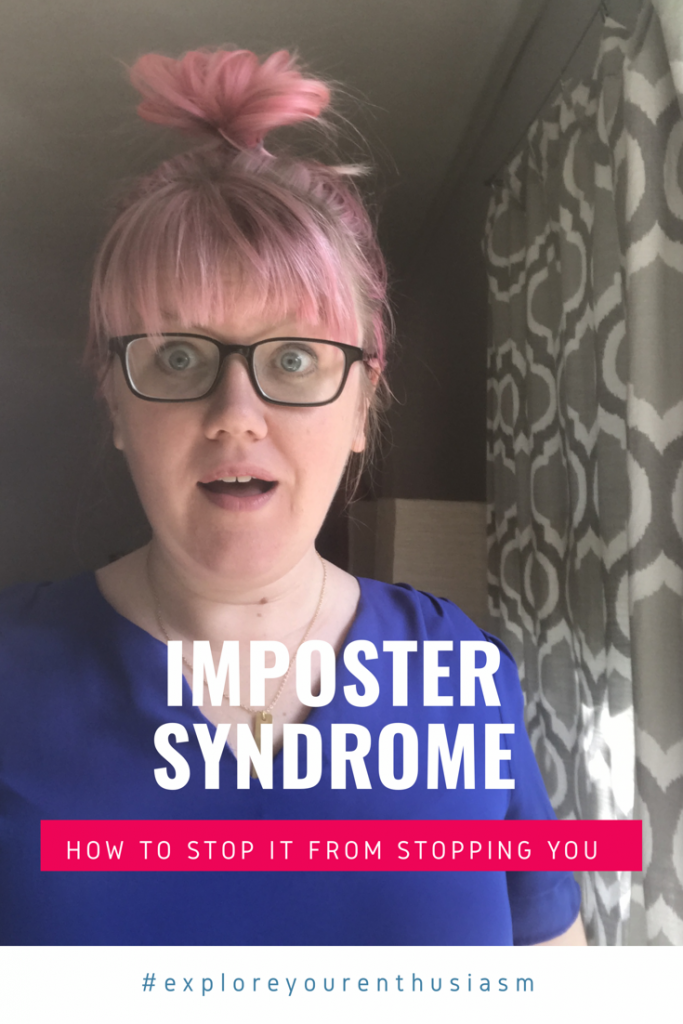 Podcast: Play in new window | Download
What if I'm not good enough? What if they call me a fraud? What if everyone figures out I don't know what I'm doing?
Hello, this is Imposter Syndrome and girl, we all deal with this all the time. So in this week's episode we're going to look at what it is, what it means, and how the heck to move past it.
Guess what? I'm 233 episodes and 4 years into this podcast and I still worry I'm not good enough. I got a bad review earlier in the week I'm recording this, my first ever, and I thought: Yes, they're right, I'm not good enough.
Thankfully I thought through how I'd talk to a client about this and I realized, "Wait, hold up! This is imposter syndrome." I hopped on Instagram and sure enough, you all feel this all the time. In fact, I did a little question pop-up on my Stories and got more responses to this than anything else I've ever asked. You guys told me you wanted to know: What the heck is it? Does it mean anything? And above all: What can we do to get over it?
I think Wikipedia actually explains this really well:
"Impostor syndrome (also known as impostor phenomenon, impostorism, fraud syndrome or the impostor experience) is a psychological pattern in which an individual doubts their accomplishments and has a persistent internalized fear of being exposed as a "fraud".[1] Despite external evidence of their competence, those experiencing this phenomenon remain convinced that they are frauds, and do not deserve all they have achieved. Individuals with impostorism incorrectly attribute their success to luck, or as a result of deceiving others into thinking they are more intelligent than they perceive themselves to be."
What does it mean when you feel it?
It means your human. That you are challenging yourself to do things beyond what you used to do, so you worry you're not good enough, because you haven't "proved" it to yourself and others yet. Or you have proved it and you're just not giving yourself credit for it.
In other means, it doesn't mean you should stop. It is not a "sign".
How do you get rid of imposter syndrome? How do you deal with it?
Recognize that you're feeling it and that you're not alone
First, you have to recognize it for what it is. This step alone can dramatically change the impact Imposter Syndrome has on you. Because by naming it, you realize it's a way of thinking (that is very common!) and not FACT.
How can you start recognizing it?
Notice when you are backing away from something or stressing about something. Ask yourself – why am I afraid right now? What am I afraid others will say?
Then, say to yourself: It's ok to feel this way, it's ok to be afraid, I can do it anyway.
Just asking the question "why am I afraid" will often show you that you're afraid of…
Someone calling you a fraud
Someone judging you
Not being good enough
Failing because you're not good enough.
THAT is Imposter Syndrome.
In other words, it's not necessarily true that you will be "found out' or that you aren't "good enough", you are just afraid that you're not good enough. There is a big gap between being actually bad at something and being judged to be bad at something.
Good news: JUST naming it can help reduce the effect of Imposter Syndrome!
An estimated 70% of people experience these impostor feelings at some point in their lives, according to an article published in the International Journal of Behavioral Science. So seriously, you are NOT alone.
In a 1978 paper, Pauline Clance and Suzzanne Imes first identified Imposterism, in their paper Imposter Phenomenon in High Achieving women (linked up below). They also found that "the realization that they were not the only ones who experienced these feelings" relieved the feelings. They concluded that "simply extracting the self-doubt before an event occurs helps eliminate the feelings of impostorism."
In other words – recognize the feelings and realizing you're not alone helps eliminate the feelings!
Grow your self-worth
Do you minimize the value of what you're great at?
Yeah, most of us do, because it comes easily to us, we think it doesn't matter.
But it does. And if you devalue what you're good at, you're going to think you're not worth much.
In times of high Imposter Syndrome, do a few things to boost your feeling of self-worth:
Start keeping a list of what you're good at, what others compliment you for.
Keep a folder full of nice reviews/comments/etc
List all of the times you were new at something and succeeded.
List times you failed, but were fine anyhow.
Reframe your reasons to intrinsic motivation
Researcher Queena Hoang found that moving your reasons for doing something from external motivation to internal motivation, lessened the Imposter Syndrome. She published her results in the paper The Impostor Phenomenon: Overcoming Internalized Barriers and Recognizing Achievements.
What does that mean? Change your reasons from "I have to do this" (external) to "I want to do this for me" (internal).
Some other examples:
"If I want this business to succeed, I need to keep going."
"I know I can do it."
"I am doing this for women everywhere."
In fact, it's this last one that helped me overcome my recent flash of Imposterism. I realized that if I let reviewers who don't like my voice silence me, then I am telling all of you, the world at large that you should be silenced if people don't like you. Which is pretty much the opposite of what I believe. I believe everyone (and women and communities who have traditionally been silenced) should share their voice, their art, their expression, whether others approve of it or not. That we should not be silenced by the critics.
So next time Imposter Syndrome rears its head, look at what listening to it will communicate to your children, your friends, the world at large. Will you send the message that you have to be perfect before you can succeed? Will you communicate to our daughters that unless they have unshakable confidence they can't go after their dreams?
Uh, no. So move forward, honey.
I hope these strategies help you overcome your Imposter Syndrome, but above all I want you to remember: You can feel like an imposter and do it anyway.
You don't have to get rid of it completely, but learn to be able to act even when you do feel it.
Bibliography:
How to listen
You can subscribe to it on iTunes (If you do, leave a review!)
You can listen to it using the player above or download it.
Subscribe or listen via Stitcher (or subscribe in whatever you use for podcasts – just search "Explore Your Enthusiasm" and it should pop up!).