Darling Bostonians,
I'm coming to your fair city October 1-4 and I'd love to meet you!
There are three days + places we can hang out: :
Bonus! Every student, at either workshop, will get a $100 discount on the Starship!
And if you come to BOTH classes, you'll get a free signed copy of my book, Market Yourself!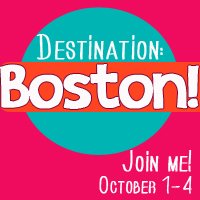 Here's everything you need to know: 
October 2nd: Spot Your Sparkle, At Gather Here
The secret to getting published, getting into shows, and getting followers. 
6:30 – 9 pm
Location
Learn how to identify + communicate what makes your particular business stand out from the crowd! With a combination of class lecture, worksheets and discussion, you'll learn how to define what you want, identify what makes your business special (and thus, attractive to craft shows, the press and customers), and communicate that in all you do. You'll have time in the workshop to explore your businesses appeal, and then develop your own lexicon for talking about your work. You'll leave class with a clear direction, a grasp on what makes your business sparkle, and a mini-manifesto that you can use to quickly + un-awkardly share your work with anyone.
(note: This class has just ONE spot left! Be sure to register to reserve your seat!)
October 3rd: How to teach your craft, at Cabot Street Studio
7 pm – 9:15 pm
Location
In this 2 hour workshop, we'll cover how to pitch a class with your creative skill (painting, writing, embroidery, etc) to a teaching space, and how to fill it up with students. I combine teaching with worksheets and class discussion, so you'll work on your own class idea and can ask for feedback and ideas throughout. By the end of the workshop, you'll leave with the beginnings of your own class marketing plan, including how to sell it to a teaching space and your potential students.
(note: This class has just 3 spots left! Be sure to register to reserve your seat!)
October 4th: Coffee + cupcakes!
11 am (probably)
Location TBD (probably in Cambridge, or downtown Boston)
This will be ultra casual. We will just meet up, share a cup of coffee and get to know each other better. I will probably be travel-weary and goofy, so don't be shy! This is open to absolutely everyone, so bring your kiddos, partner, or your self, no matter who you are or what you do. (Ie, this is not just for crafters, makers, writers, entrepreneurs. If you've landed on this page, I'd love to meet you!)

To join: RSVP here! The location of the coffee shop will be released to attendees
Got a friend near Boston?
Invite them to join us! Click here to tweet, or share it with your Facebook friends!